NanoPure MediaTM is premium LTO media certified via our patent-pending process.
The NanoPureTM process cleans, tests, and calibrates every new cartridge before first use, allowing users of any tape hardware brand to guarantee they are using the highest quality, most trouble-free media available. NanoPureTM is proven to perform faster and more reliably upon first use and reduce the impact new media has on the health of tape hardware systems.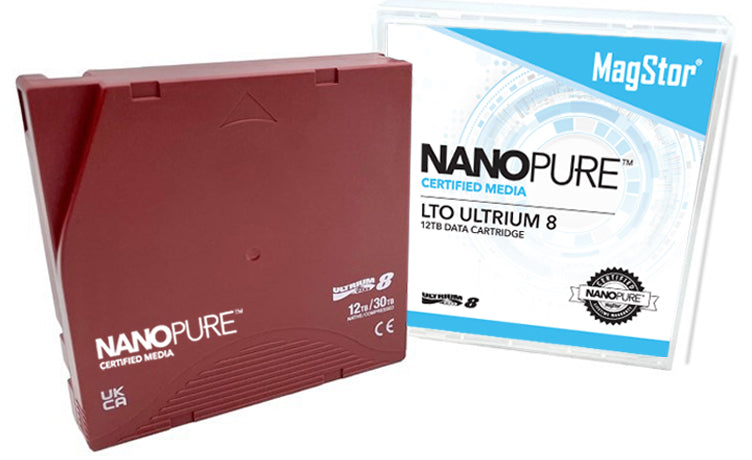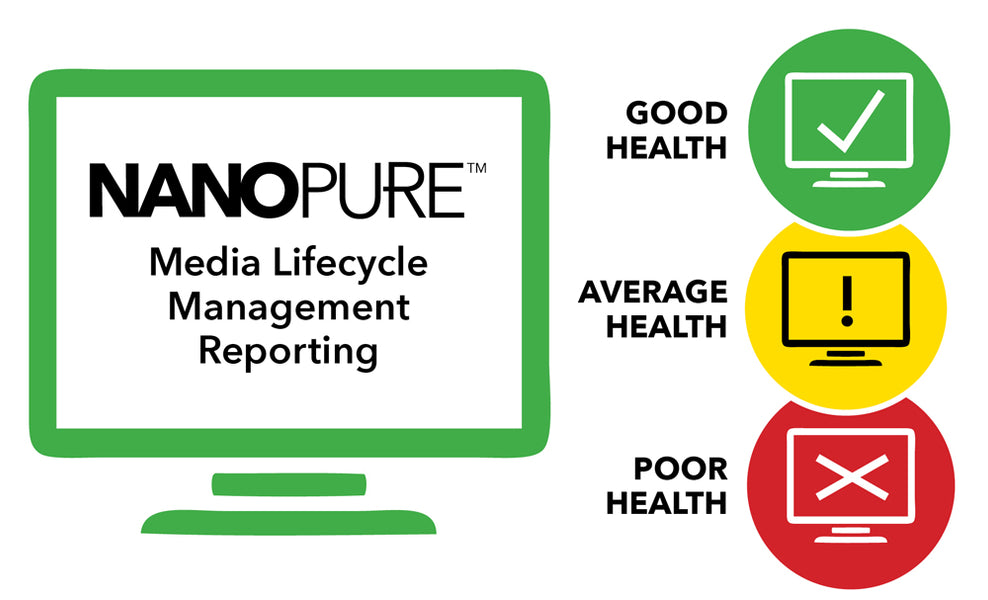 NanoPure MediaTM Lifecycle Management proactively tracks media health
Each NanoPureTM cartridge is also part of the NanoPure MediaTM Lifecycle Management (NMLM) solution.* NMLM enables the administrator to be proactively alerted to any changes in the health of the tape cartridge after each use. If cartridge performance falls below acceptable limits, the user will be prompted to run our NanoPure Intelligent Diagnostic CartridgeTM to further assess the health of the cartridge along with the health of the tape drive itself. Our process helps the end user conclusively identify if faulty media or faulty tape hardware is causing excessive errors in the backup process.
The benefits of of NanoPure MediaTM

Extends drive and media life
NanoPureTM Media extends drive and media life through a patent-pending process that removes microscopic debris left from the manufacturing process. Pre-cleaned media reduces wear on tape heads, improving their longevity.

Improved reliability and performance
Debris on new media causes higher error rates and slower system performance. By ensuring media is fully tested and debris-free, NanoPureTM Media is proven to have 30% - 40% lower error rates than standard new media.

Greater operational efficiency
NanoPureTM Media lowers operational expenses by providing time & efficiency benefits, allowing staff to focus on high value activities. Pre-labeled and pre-calibrated media simplifies media management; and NMLM reduces time spent troubleshooting failed backups.

Peace of mind
Benefit from the peace of mind that comes from knowing your media is fully tested and ready for optimal performance. With NanoPureTM Media you can be confident that you won't be taken by surprise again, and that your data will be there when you need it.
Top 5 Reasons to Use NanoPureTM Certified Media
NanoPureTM ensures the best possible performance and integrity of your tape backup hardware and media as a system. Experienced tape hardware owners know that new media has certain characteristics that can be detrimental to backup performance.
New media is harsher on tape drive heads
When new media is used in a drive for the first time it is more abrasive to the surface of the drive head. This "green" media effect can contribute to scratches or other damage to the head surface, leading to early hardware failures.
New media has higher error rates
New media has inherent characteristics that lead to higher error rates on initial usage. NanoPure MediaTM is tested to have 30-40% lower error rates then new untested media. This leads to reduced error correction activity during first use and reduced backup times.
New media calibration can take an exceptionally long time
LTO-9 requires a new initialization process that optimizes each cartridge before it is used for writing data. This process happens automatically when a new LTO-9 cartridge is loaded into a tape drive. NanoPure MediaTM is pre-calibrated, saving up to 2 hours.
New Media may not be new
NanoPure MediaTM is certified as new /unused. There is a grey market for used tape media, where vendors will sanitize the media and resell it, not always representing the media as used. The NanoPure MediaTM process at the factory analyzes the cartridge for evidence of prior use in the protected areas of the tape and the cartridge memory.
Lifetime warranty, lifetime support
NanoPure MediaTM is guaranteed for the life of the cartridge to original registered owners. Simply contact MagStor® for an exchange should a problem occur.
Partners
*new software partners coming soon
The NanoPure MediaTM Lifecycle Management (NMLM) solution is currently compatible with
backup and archival solutions from the following software vendors:
Resources
NanoPure MediaTM Product Brochure
For more information, download our NanoPure brochure
*NMLM is only available for use within supported backup software and hardware and requires the use of the Intelligent Diagnostic CartridgeTM at an additional cost. Available Q4 2023: